Select tickets
Enter details
Payment
Complete!
Tickets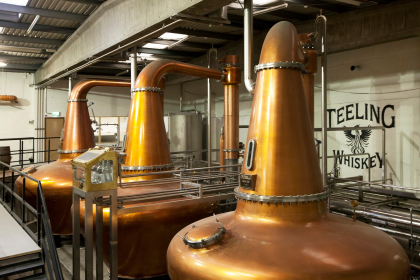 Experience first-hand the sound, smell and feel of a fully operational distillery on one of our guided tours, followed by a whiskey tasting.
• Teeling Small Batch & Seasonal Whiskey Cocktail €15.00
• Teeling Trinity Tasting – Small Batch, Single Grain & Single Malt €20.00
• A Tasting of award Winning Single Malt, Single Cask and a Vintage Distillery Exclusive Single Malt €30.00

Have you always wanted to explore your artistic side but didn't know where to start? Or you just want a different night out with your friends? Teeling Whiskey has partnered up with Paint Club for a "Spirit of Dublin" themed painting evening with a difference… Visitors will be treated to a seasonal Teeling Whiskey cocktail on arrival, a tour of the distillery and finish up in our new event space where the painting will commence. All materials included and your creation is yours to take home & proudly display!
• Teeling X Paint Club €50.00

Join us for the first in our "Spirit of Dublin" Sessions, an educational series of events where we take an afterhours tour with our Master Distiller Alex Chasko, and look at some new innovations and products coming down the production line here at the Teeling Whiskey Distillery. To kick off our first session, we'll be taking a production tour of our distillery with Alex Chasko and his distillery team, sampling some of our new make spirit and comparing and contrasting different production and maturation techniques currently under development. We'll finish off our night with a new make cocktail in our new bar, The Finishing Room. Tickets are limited, available for €35, with all ticket proceeds on the night going to local charities supported by the Teeling Whiskey Distillery. Start time for this event is 18:30
• Masterclass Event : 18:30 February 28th €35.00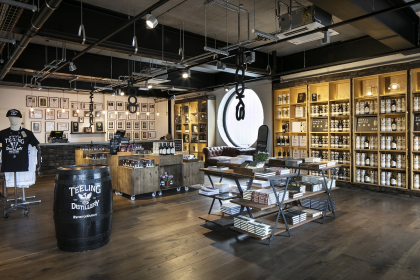 Looking for a unique gift for that whiskey lover in your life? A Teeling Whiskey Distillery Gift Card is the ideal gift for any whiskey fan or anyone interested in Dublin's long association with Irish Whiskey.The Gift Card can be redeemed on distillery tours and gift shop purchases, and can also be used in the distillery's Bang Bang Bar or Phoenix Café.
• GIFT CARD €20 €20.00
• GIFT CARD €40 €40.00
• GIFT CARD €50 €50.00
• GIFT CARD €100 €100.00

We've teamed up with Punch Lion to produce an evening of top notch stand-up comedy with three excellent comedy acts performing. Join us, Steve Cummins, Joe Rooney & Damien Clark
• Barrel of Laughs – March 15th €15.00

• Teeling Whiskey, Dot Brew and Seasonal Cheese Pairing Evening €35.00

We will be joining forces with Dublin-based bean to bar chocolate makers The Proper Chocolate Company this March 29th as we host an interactive and sensory whiskey and chocolate pairing evening from 6.30pm – 8pm. Join us for a look behind the science and art of whiskey and chocolate making, just in time for Easter! Guests will be treated to a tasting of three of our signature whiskeys, all carefully paired with chocolate lovingly hand-crafted in Dublin by The Proper Chocolate Company. We'll conclude the evening with a complimentary cocktail at The Bang Bang Bar. Tickets run at €35 and are in limited supply so get yours while you can!
• Proper Chocolate Pairing – March 29th €35.00
Your Basket
Item
Price
Qty
Subtotal
There are no items currently in your basket

Total

€0.00